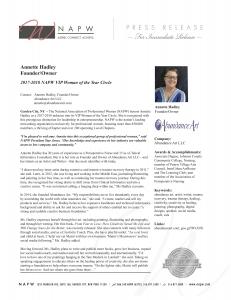 I'm very pleased to share the attached press release with you today. As founder and owner of KC-based Abundance Art LLC, I have recently been recognized by my professional organization NAPW (National Association of Professional Women) and inducted into the NAPW VIP Woman of the Year Circle.

A prolific creative, I share my heart and soul through visual and written art. From fine art original abstract paintings, museum quality prints, stunning chandelier photographs and digital designs, to my recently published book From Fear to Love How Creativity Saved My Life and Will Change Yours for the Better (available on Amazon), I am blessed to walk the steps of my vision and mission - living abundantly, nourishing the world with what nourishes me.

Drawing on my extensive experience in operating room nursing, healthcare clinical informatics with KC-based Cerner Corporation and international travel, I welcome the opportunity to share my inspiring story of trauma recovery and...